Everything you need to start, manage and succeed with online ordering & reservations
 Pickups
Allow customers to easily place a pickup order for immediate collection or at a later time within your opening hours
 Deliveries
Order for delivery within a certain range of your store location or within designated zones
 Dine-In & Room Service
Customers can place orders directly from their table with optional password protection. Use with QR codes or NFC tags to improve the experience
 Table Bookings & Reservations
Customers can request a table booking online and stay updated on the status of their booking via e-mail updates
 Order History
Logged in customers can easily view their order history and re-order the same items with ease
 Express Checkout
Customers can easily re-order as all their checkout and delivery information is saved for future orders
 Guest & Customer Checkout
Customers can checkout as guests or login via email, Facebook or Google. All customer information is tracked for your use including guests through matching their checkout details
 Real-Time Order Receipt
Customers get a unique web URL as their receipt once an order is placed. They can view changes to their order status in real-time as you update it through the management interface
 Customer E-Mail Receipt
All customers will receive an e-mail notification confirming their order was placed along with a PDF receipt for reference
 QR Code & NFC Ordering
Dine-in orders can be initiated by scanning a QR code or tapping an NFC tag to automatically bring up your website with the table/room numbered entered and ready to order
 Accept Orders Anytime
Customers can place orders which are due immediately or for a later time within your designated opening hours. Set multiple opening and closing times per day
 Order Statuses
Track the fulfillment of orders with built-in order statuses. Customers are notified in real-time whenever you update an order
 Automated Statuses
Automatically update order statuses based on the amount of time that has passed since the order was placed. Useful if you have a large volume of orders
 Automated Wait Times
Accurately determine order wait times for every order type to improve your customer experience
 Automatically Apply Promos
A promo code can be automatically applied to a customers cart if they meet the requirements defined by the promo
 Built-In Age Verifications
Enable age restriction to allow registered customers to submit their ID for approval by your staff
 Age Restricted Menus
Only approved customers can order from age-restricted menus. Perfect for use in bars or clubs
 Responsive & Mobile Friendly
Designed to look great, work smoothly and provide a great ordering experience across all devices such as phones, tablets and desktops
 Showcase Your Menus & Information
Display all your menus, dishes and business information in a way that's easily accessible to all your customers
 SEO Friendly
Get discovered by search engines easily by customizing your page title and meta tags for maximum search engine visibility
 Built-In Contact Form
Customers can easily reach you by sending you an e-mail directly from the contact form embedded in your online store
 Embedded Maps
A map of your store location is embedded into your website for customers to help customers easily locate you
 Custom Domain Support
Easily connect your own custom domain name to your online ordering website or landing page for a better user experience
 SSL Secured
Our servers will automatically generate and manage your SSL certificate for your website to enable HTTPS security
 Online Admin Dashboard
Log in to your online admin dashboard to easily manage all your orders, bookings and business information
 Accessible On All Devices
The online management interface is designed to work well on all devices and is even perfect to set up in-store on a tablet
 Staff Accounts
Create restricted staff accounts with custom login and password. Restrict accounts to only particular actions to prevent unauthorized access
 Real-Time Order Management
Manage orders in real-time without page reloads through the order management interface. Orders will automatically be highlighted on the interface as they come through
 Email, Audio & Device Notifications
Automatically receive an email and device notification every time a new order is placed. Customise audio notification duration, sounds and play until confirmed
 Easy To Use
Every feature and setting is fully documented and explained alongside the option. This way you can easily understand how everything works as you progress
 Perfect For In-Store Setup
Set up the order management interface in-store on a tablet or PC for staff to use and manage new orders
 Sales Reports
Understand your trends with our extensive sales report that shows you all your key performance metrics
 Export All Your Data
Your data is yours. Everything from orders, bookings and customers can easily be exported to CSV / Excel format for use with 3rd party applications
 Multiple Menus With Conditions
Create any number of menus segmented by store locations and a variety of conditions such as order types, dates and times. E.g. create a lunch menu, pickup menu or pre-order only menu
 Advanced Dish Customization
Create a variety of customizable options for each dish. E.g. meat types, optional sauces, pizza toppings, build your own dishes and more
 Combo Dishes & Meals
Create dishes that require customers to select a combination of dishes. This can be used to create combos and meals such as choose 3 pizzas and a drink
 Fixed or Variable Combo Pricing
Set a fixed price for a combo dish or add variable dish prices based on the price of the different items that make up the combo
 Dish Statuses
Flag dishes as out of stock or not available for ordering on a per location basis. You can also hide dishes from your menu
 Dish Tags
Create fully customizable dish tags with a unique color and icon to represent things such as gluten-free, vegan, spicy, etc.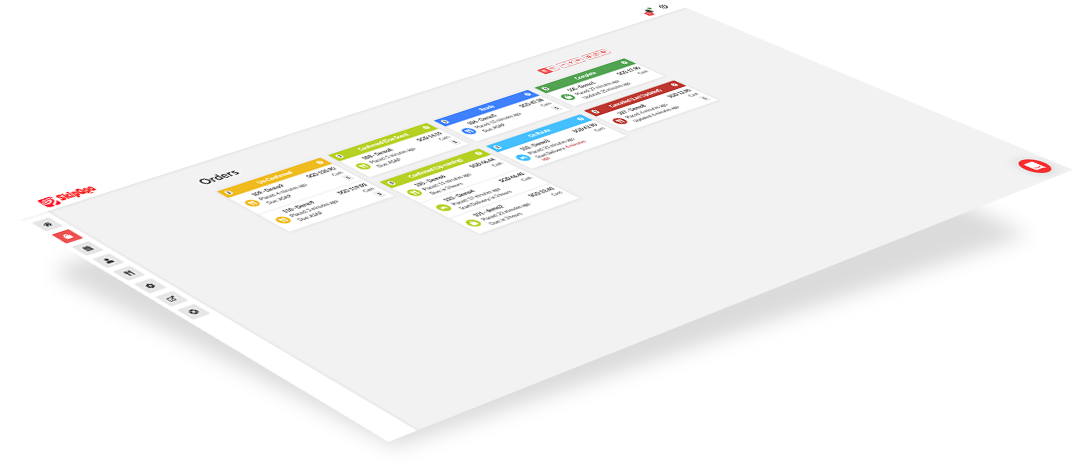 Using our real-time order management interface, your staff can get a birds eye view of every pending order and easily keep track of what needs to be prepared next
Automated receipt printing to unlimited printers
Automatically print new orders whenever they are placed with a less than 10 second delay.
Customizable e-mail, audio and device notifications
Automatically receive an email and device notification every time a new order is placed. Customise audio notification duration, sounds and play until confirmed
Order events log to maintain staff accountability
Understand your trends with our extensive sales report that shows you all your key performance metrics
One System To Rule Them All
Why struggle with numerous different systems. CloudWaitress streamlines your restaurant's digital requirements into one easy to use system. With one platform, you can accept and manage every type of online order
Pickup
Order for collection directly in-store either due immediately or at a later time
Delivery
Order delivery to a specific address within your pre-configured rules and zones
Dine-in
Order directly from your table by selecting your table number or scanning the QR code
Reservation
Request a table booking at a later date with e-mail confirmations to keep updated
Ready to Get Started?
Take control of your online presence and start accepting online orders today.